This year Seraphim Bears received the 2012 TOBY Industry's Choice Award for Toodle Pip! Thank you to the Judging panel and Teddy Bear and Friends Magazine!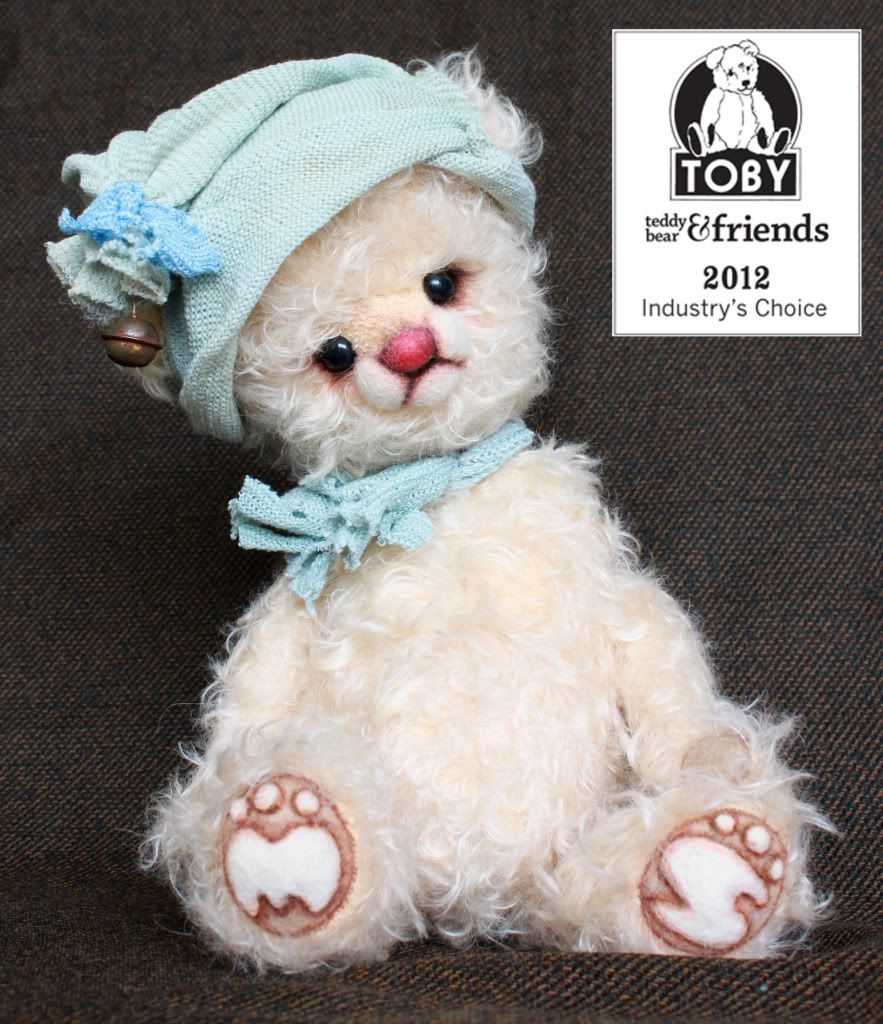 Most recently there was an article published in The Teddy Bear Annual on Me, my family inheritance of bear making and Seraphim Bears! 2011 Spring Summer edition! Thanks to Kathy Martin for writing this article on me!
This year Seraphim Bears received an honorable mention for the URSA awards 2011! Thank you to everyone who voted for Sundae.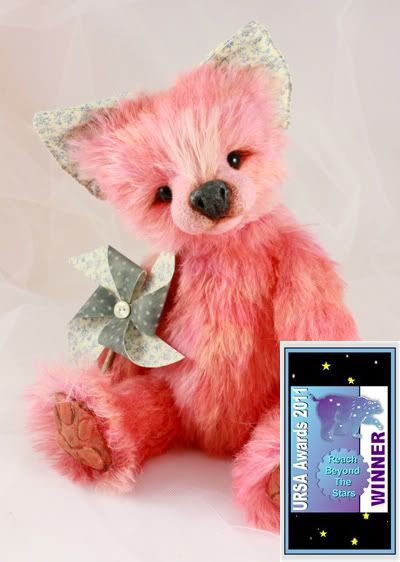 I was honored to have Bethany recently win the TOBY industries choice award 2011
Stevie was awarded the 2010 URSA - third place award! Thank you for your votes!
Bethany made an appearance in winter edition 2010 Teddy Bear and Friends Magazine in the Most Wanted section! Stevie was seen in the Fall edition of Teddy Bear and Friends in the Most Wanted section.
---
Hi Michele.....Blue Christmas arrived today and what a delight he is! He is so much more charming in person. He has now taken a place of honor on my mantel along with snowmen, nutcracker suite figurines etc. all out to celebrate the holidays. Only thing is, he's out for good!
Your packaging is very impressive, loved the quote by Milne, everything about the way your product is presented is very classy and special.
I'm so glad I stopped at Blue Christmas in the Teddies International Show. I couldn't be happier.
Cheers,
Rita
---
Hi Michele,
Just a little message to say that Marshmallow World has arrived safely. He is absolutely gorgeous and I'm over the moon with him. He is such a beautifully made bear and his little face is so expressive. He fits into my hug perfectly. Also, you packaged him so wonderfully and it was a joy to unwrap him - it took me right back to my childhood and made me feel like a little girl again!
Thank you so much for creating Marshmallow World and helping him get to London safely.
Kindest regards.,
Laraine.
---
Michele,
I have received many bears in the mail, but never one packed with such care and attention to detail as Noodles! He is just so whimsical and adorable. And all the paperwork that came with him was
just incredible. The whole package was a pleasure to unwrap. I will certainly display Noodles proudly and he will always make me smile! Thanks so much.
Leslie
Michele,
I did receive Grey and he is wonderful as well as his cup, saucer and tea bag.
Best Regards Michelle
---
Michele,
Earl arrived safe and sound in today's mail. He is wonderful..... pictures don't do him justice. Amazing tiny bear, just love your attention to detail. Thank you so much!
Susan
---


I met Michele,for the first time at the Toronto teddy bear show.She greeted me with a friendly warm smile.She is the type of person that people seem to naturally flock around,she has charisma!.Michele is a multi talented artist.Her bears and bunnies are truly endearing,all the time and energy that she puts in to making each bear shows that ,her bears are made with love and the quality is sewn right into each bear.I adopted the sweet little white rabbit from her ,Alice in wonderland collection.Also a lovely bear named Cozy,she is made from beautiful pastel coloured mohair.When I wake up in the morning I want to give my Cozy bear a hug,to brighten my day!
Thank you so much Michele,
Your fan Ingrid
---
OH!!! Hamish arrived and he is tooooo perfectly adorable!!! He is so much cuter in person. I adore his little body and his wonderful eyes. Thank you so much for such a wonderful bear. I love him!!! You are terrific in every way. Thank you. Peggy
---
I just wanted to let you know that I received beautiful Eva. She is wonderful and so sweet! I love her very much and I've added her to my little collection of stuffed creatures.
Thanks again,
Kristen
---
i had lots of smiles when i opened him and all of his beautiful wrappings, layers, and details, looking at all of the written cards, coa, aceo, and finally, holding little basil. he's a beautiful work of art and he will fit right into my collection. thanks for what you do, it touches the collector in a way you may not know about. all the best, kimberly
---
I can't express how happy I am with London. She has a place of honour in my "bear room," and I think she is one of the very nicest bears in a very large collection. Your artistry and meticulous work make me glad I bought her. I will continue to watch your bears. (And I think London is in a good place!) Gary
---
"I recently attended the Teddy Bears on Vacation show in Toronto when I saw Michele's winning bear "Bethany" at her stand that instantly caught my attention, as I recognized this gorgeous 2011 Toby winning bear while surfing the net and was entranced by Michele's Seraphim Bears' website – so imagine my delight of instantly falling in love with her new wavy mohair bear "Mr. Bungle"! He is a large gorgeous powder pink and light green hand dyed character clown bear with a colourful polka-dotted cream hat and ruff sparkling with Swarovski crystals, also detailed with exquisite lace on the ruff as well. "Mr. Bungle" was oozing with personality plus (which I know for sure was inherited by his creator Michele)! "Mr. Bungle" & Michele felt like instant "kindred spirits". When I adopted "Mr. Bungle", Michele handed him to me lovingly wrapped in a blanket like a newborn baby - such a cute touch! Michele pays so much attention to all the little details that make her bears so endearing – they are so full of soul. Every time I look at "Mr. Bungle", he makes me smile – that impish grin – he is so full of beans!"
Bear Hugs!
Linda
---